Family Law
Helping Families Make Overwhelming Situations Manageable
Get in touch with our team to find out how we can help you and your family.
Fort Worth Family Lawyer
Serving Texas Families With Compassion & Integrity
At the Law Offices Of Mark M. Childress, PLLC, we strive to be the firm for all of your family law needs. We understand how difficult family law issues can be and just how far-reaching the consequences are when they are not handled properly by a knowledgeable attorney.
Our Fort Worth family law attorneys deliver the compassionate yet results-focused representation you need to overcome the challenges at hand.
Call our family law attorney near you at (817) 497-8148 or complete our online contact form to get started with your case evaluation. We serve Tarrant, Parker, Johnson, Wise, Hood, Denton, Somervell, and Jack Counties as well!
Our Approach to Family Law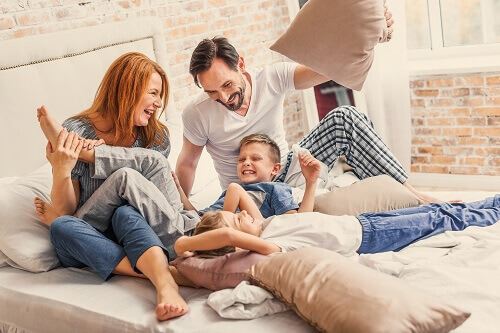 Our firm is led by Fort Worth attorney Mark M. Childress who believes that if something is worth doing, it is worth doing right.
In our opinion, the right way to represent a family law client is to take stock of their full needs and find solutions tailored to their unique circumstances. We approach all issues with sensitivity to our clients while being their strongest advocates at the negotiating table and in the courtroom.
If you choose the Law Offices Of Mark M. Childress, PLLC to protect your rights, your children, and your property, you will be an important part of the equation. Our lawyers prefer to collaborate with our clients to develop goals and maintain direct contact throughout the process.
Attentive Service for All Types of Family Law Cases
Our family lawyers in Fort Worth can help with all of your legal needs, including:
In family law, no two cases are exactly alike. We are prepared for whatever twists and turns lie ahead and can be trusted to focus on reaching an outcome that benefits you now and in the future.
Consult Our Fort Worth Family Lawyer Today
If you have any questions about the family matter you are facing, we encourage you to read our family law FAQ for helpful information that may be of use.
Our Fort Worth family law attorneys are always available by phone or email to field your questions and assist in any way possible.
We also provide legal services to Tarrant, Parker, Johnson, Wise, Hood, Denton, Somervell, and Jack Counties. So wherever you are, you can turn to our family law attorneys near you!
Contact us at (817) 497-8148 now. Our Fort Worth family law attorneys look forward to helping you find a path forward.
The Opinions that Matter Most
What Former Clients Have to Say
"My questions were heard and answered without having to ask twice."

- Cody C.

"Mark was there to answer every question, every phone call and did it in a way that I felt as if I were his only client."

- Kelley C.

"I highly recommend him and his staff. They are courteous, prompt and they care."

- Bobby N.
Why Choose Us for Your Family Matters?
Direct Access To Your Attorney

Our Attorneys personally handle each case themselves. You will have direct access to your attorney to be able to get the answers that you need. 

Transparency

Honesty and transparency are critical in building trust with your attorney. You will always know what is going on with your case every step of the way.

Team Oriented

At our firm you're not just a case number, our staff will always know the status of your case and help to make your situation more manageable.

Personalized Approach

Our team understands that no two cases are the same. Your strategy will be tailored specifically to you and your family's goals.