Texas Grandparents' Rights Lawyer
Serving Residents of Tarrant, Parker, Johnson, Wise, Hood, Denton, Somervell, and Jack Counties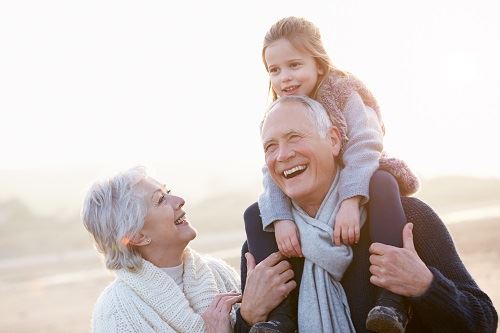 When people discuss child custody issues, the primary focus is on what is in the best interest of the child, as it should be. There is also a tendency to focus on making sure that both parents are positioned to play an active role in the child's life even if they are no longer going to be together.
But what about grandparents? Grandparents' rights are often forgotten when thinking about issues of visitation and access. This is a shame, as grandparents can play an important role in a child's development and in maintaining family structure when everything else in a child's life seems to be changing.
Grandparents today are typically more involved in their children's lives than ever before. According to Today, 22 percent of grandparents see their grandkids daily, while 42 percent see them weekly. One in four parents entrust the care of their children to grandparents at least once a month. These close connections offer myriad benefits for grandparents and grandchildren, but unfortunately, they also can cause complicated situations when parents divorce or undergo other serious life changes.
In these situations, many grandparents find their time with their grandchildren restricted or even cut off completely. Fortunately, Texas law recognizes grandparents' rights to custody and visitation. Grandparents may be awarded visitation time or even custody of their grandchildren if they can prove that they meet certain legal criteria.
For more info on grandparent's rights in TX, call our Fort Worth attorneys today! (817) 497-8148
Visitation Time Awards
Unfortunately, grandparents do not enjoy an absolute right to visitation time with their grandchildren. State law first recognizes the right of parents to make decisions regarding their children, such as deciding how much visitation with grandparents to allow. Under state law, however, grandparents may request visitation rights, even if visitation is against the wishes of the child's parents, in the following situations:
The grandchild's parents have gotten divorced.
The grandchild has spent at least six months living with the grandparents.
The relationship between the grandchild and his or her parent has legally been terminated.
The grandchild's parent has died, been sent to prison or been found unfit.
The grandchild has suffered abuse or neglect at the hands of a parent.
A family law court may award grandparents visitation rights if the court finds that this arrangement is in the best interests of the child. The court may consider various subjective factors when making this decision. These include the child's needs and preferences, the relationship that the child and grandparents enjoy and the benefits of a continued relationship.
Child Custody Determinations
In some cases, grandparents who have played a significant role in raising their grandchildren may benefit from seeking legal custody. According to USA Today, such arrangements are becoming increasingly common. At the time of the 2010 Census, grandparents across America were bringing up 4.9 million grandkids. This figure represents almost twice the number of children that grandparents were raising just 10 years before.
Obtaining custody can offer various benefits for grandparents. Grandparents who are awarded legal custody gain the right to make important financial, medical and educational decisions on the grandchild's behalf. Seeking custody may also be advisable if the grandchild's parents are no longer fit as guardians.
To seek custody, grandparents must meet a number of criteria, unless the child's parents or court-appointed conservator agree that the grandparents should receive custody. Grandparents must show that the grandchild lived with them for at least six months, or they must be named the child's guardians. Alternately, grandparents must prove that harm is resulting from the child's current living situation.
Protect your rights as a grandparent! Call our Fort Worth lawyers for grandparent's rights today at (817) 497-8148.
Standing Up for The Rights Of Texas Grandparents
At the Law Offices of Mark M. Childress, PLLC., we are compassionate advocates for the rights of grandparents in family law cases. We can answer your questions about your rights and pursue an outcome that makes sense for you and your grandchild.
Are You Seeking Custody Rights?
Custody laws favor parents having custody of their children over all others in most circumstances. However, there are situations that can open the door to the possibility of grandparent custody. This will typically be an option in a case where parents are incarcerated, using drugs or abusing alcohol, or being physically or emotionally abusive to the children.
Contact Our Texas Grandparents' Rights Attorney
At our firm, we combine a high level of personal service with the litigation skills necessary to achieve results in this complex area of family law. Whether you are seeking to establish visitation rights or wish to pursue custody of your grandchildren, we are here to help.
Contact us today to schedule your consultation with a Fort Worth grandparents' rights lawyer.
Meet Our Team
Dedicated Legal Professionals
Mark M. Childress
Desiree A. Hartwigsen
Sarah E. Robbins
Konnor N. Lee
Laura E. Richardson
Melissa S. Mozingo
Amie M. Wilson
Kristie M. Falbo
Rick J. Mitchell
Kelsie Connell
Mark M. Childress Mark M. Childress

Founding Attorney

Desiree A. Hartwigsen Desiree A. Hartwigsen

Managing Attorney

Sarah E. Robbins Sarah E. Robbins

Senior Litigator

Konnor N. Lee Konnor N. Lee

Supervising Attorney

Laura E. Richardson Laura E. Richardson

Senior Litigator

Melissa S. Mozingo Melissa S. Mozingo

Lead Litigator

Amie M. Wilson Amie M. Wilson

Senior Paralegal

Kristie M. Falbo Kristie M. Falbo

Lead Litigator

Rick J. Mitchell Rick J. Mitchell

Senior Litigator

Kelsie Connell Kelsie Connell

Paralegal
Why Choose Us for Your Family Matters?
Direct Access To Your Attorney

Our Attorneys personally handle each case themselves. You will have direct access to your attorney to be able to get the answers that you need. 

Transparency

Honesty and transparency are critical in building trust with your attorney. You will always know what is going on with your case every step of the way.

Team Oriented

At our firm you're not just a case number, our staff will always know the status of your case and help to make your situation more manageable.

Personalized Approach

Our team understands that no two cases are the same. Your strategy will be tailored specifically to you and your family's goals.