Visitation, Possession & Access Attorneys in Fort Worth
Handling Custody Matters with Care in Tarrant, Parker, Johnson, Wise, Hood, Denton, Somervell, and Jack Counties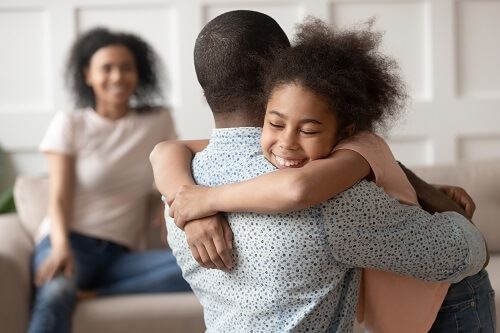 No matter what property you own or financial assets you hold dear, nothing is more important than protecting your relationship with your child. With so much at stake, it is crucial to have an experienced family law attorney handling your visitation, possession, and access issues.
At the Law Offices of Mark M. Childress, PLLC, we dedicate our practice to achieving outcomes that are in the best interests of parents and children. Our practice is built upon a foundation of personal service, as we take the time to understand the unique needs of our clients and their children.
Contact us online now to get started. Our Fort Worth firm is able to take cases from residents of Tarrant, Parker, Johnson, Wise, Hood, Denton, Somervell, and Jack Counties as well!
Solutions Tailored To Your Family's Needs
Whether you are a parent seeking primary physical custody of your child or you have a career that takes you away from home frequently, you can count on us to find a creative parenting plan that works.
We can assist you with a wide range of custody- and visitation-related matters, including:
Standard vs. expanded standard possession
Possession and visitation for parents who travel
Creative parenting plans
Our visitation attorneys in Fort Worth understand that no two situations are ever alike and stand prepared to advocate for your rights in any way necessary. While we are skilled negotiators, we make sure each case is built to withstand the rigors of litigation if it becomes necessary to go to trial.
Creative Parenting Plans
In a global economy that runs on a 24-hour business cycle, many professionals do not have the benefit of working a predictable 9-to-5 schedule. This can be a challenge for divorced or unwed parents who are splitting up, but it is not insurmountable. Our dedicated family law attorneys can help you protect your custody and visitation rights.
At the Law Offices of Mark M. Childress, PLLC, a great portion of our practice is devoted to assisting parents in developing creative parenting plans. Above all else, we want to create parenting plans that serve the best interests of children while making sure parents have full use of their possession and access rights.
From parents who work odd hours on an oil field to parents who must participate in supervised visitation, our lawyers will go out of their way to assert and protect your rights as a parent. We are strong negotiators and skillful litigators who are prepared to advocate for you no matter what direction your case moves. We will help you work with the other parent to come to a schedule that works best for all parties involved.
All that said, the most helpful thing you can do in your situation is to have a cooperative relationship with the other parent of your child. There will be times when both of you need to work together to ensure that your child is cared for and has a stable home life. Not only will that be wonderful for your child, but it will allow you to be effective at work while still being available for your children during the time you are entitled to spend with them.
Each schedule is as unique as the clients we help create them. However, the most common schedules we work on pertain to:
Parents who have non-traditional careers (airline, oil rig, oil field, and/or medical personnel)
Parents who are deemed unfit by the court and must participate in supervised visitation
Custody arrangements for children under 3
Custody arrangements for parents who have not seen their children for an extended period of time
Standard vs. Expanded Standard Possession
The most important decision that parents will need to make in the course of a family law issue is how they can protect their time with their children. One of the key issues is whether a standard possession schedule is in the best interest of the child or whether all parties could be better served by expanded standard possession.
Standard Possession
When people think of a "normal" custody arrangement, they are thinking about standard possession. In a standard possession arrangement, a parent will have custody of a child every first, third, and fifth weekend of the month, usually from 6 p.m. on Friday until 6 p.m. on Sunday. This is ideal for parents who do not live close enough to the child's school and are unable to get him or her there on Monday morning or if they're unable to pick up their child from school on Fridays.
Expanded Standard Possession
For parents who live close enough to make custody and visitation arrangements work, expanded standard possession can give a non-primary caregiver more time with his or her child. For example, a parent might take possession of a child once school lets out on Thursday, and then maintain possession until school resumes on Monday. An expanded arrangement has the added benefit of avoiding the "hand-off" between parents, which is ideal in situations where parents are prone to conflict.
Choose the Law Offices of Mark M. Childress, PLLC
Our visitation lawyers in Fort Worth work with parents throughout the region to find solutions to their custody and possession issues. Personal service is the hallmark of our firm, as we focus on finding solutions that are in the best interests of children and allow parents to make full use of their possession and access rights.
Discuss your custody case with our team today. Just call (817) 497-8148.
Meet Our Team
Dedicated Legal Professionals
Mark M. Childress
Desiree A. Hartwigsen
Sarah E. Robbins
Konnor N. Lee
Laura E. Richardson
Melissa S. Mozingo
Amie M. Wilson
Kristie M. Falbo
Rick J. Mitchell
Kelsie Connell
Mark M. Childress Mark M. Childress

Founding Attorney

Desiree A. Hartwigsen Desiree A. Hartwigsen

Managing Attorney

Sarah E. Robbins Sarah E. Robbins

Senior Litigator

Konnor N. Lee Konnor N. Lee

Supervising Attorney

Laura E. Richardson Laura E. Richardson

Senior Litigator

Melissa S. Mozingo Melissa S. Mozingo

Lead Litigator

Amie M. Wilson Amie M. Wilson

Senior Paralegal

Kristie M. Falbo Kristie M. Falbo

Lead Litigator

Rick J. Mitchell Rick J. Mitchell

Senior Litigator

Kelsie Connell Kelsie Connell

Paralegal
Why Choose Us for Your Family Matters?
Direct Access To Your Attorney

Our Attorneys personally handle each case themselves. You will have direct access to your attorney to be able to get the answers that you need. 

Transparency

Honesty and transparency are critical in building trust with your attorney. You will always know what is going on with your case every step of the way.

Team Oriented

At our firm you're not just a case number, our staff will always know the status of your case and help to make your situation more manageable.

Personalized Approach

Our team understands that no two cases are the same. Your strategy will be tailored specifically to you and your family's goals.